Dystechnia: a model of technology deficiency and implications for entrepreneurial opportunity
Journal of Innovation and Entrepreneurship
A Systems View Across Time and Space
2013
2:1
Received: 18 February 2013
Accepted: 21 February 2013
Published: 18 March 2013
Abstract
Disconnects among system components preempt technology adoption by the diminution or absence of potential user's perceptions, a state of second-order ignorance (ignorance of ignorance). The condition of flawed or failed efficacy in the use, deployment, or logistics of technology is, as we term, dystechnia. Dystechnia is ubiquitous, and its origin in second-order ignorance implies entrepreneurial opportunity. Entrepreneurship is the recognition and exploitation of economic potential by shifting the established means of economic creation and control, strategically reappointing economic resources from established pathways to innovative pathways. The Technology Acceptance Model (TAM) is a theoretical construct of the relationship between the perceptions of potential users and the behavioral intentions leading to actual technology adoption and acceptance. The lens of TAM presumes an existing, workable technology or technological system, the perceived usefulness and perceived ease of use of which determine the intention to use, which in turn mediates actual adoption. It is the inception of entrepreneurial solutions as alternatives to the dystechnic status quo upon which TAM operates. A technology must be ventured before usefulness and ease of use can be perceived. This paper examines the phenomenon of dystechnia, the entrepreneurial action that predicates TAM, and entrepreneurial mechanisms whereby dystechnia is remedied.
Keywords
CompetitivenessCreativityDystechniaEntrepreneurshipEvolutionary economicsInnovationRobust competitivenessSustainable entrepreneurshipTechnologyTechnology adoption and diffusion
Background
In the realm of social sciences, the greater body of business and economic theory constructs frameworks of complex organizational systems: the firm, the industry, the institution. Underlying these interdependent and concentric layers are individuals whose behaviors exist first; behaviors must give rise to institutions before institutions can mold behaviors. In the purview of business and economics, the entrepreneur is the pivotal individual actor in this proposed model. Starting with an idea and the urge to take action, individual entrepreneurial initiatives create firms that produce industries which in turn give rise to institutions. Complex business and economic systems are evolutionarily revised, created, and destroyed by the successful execution of entrepreneurial ambition.
Technology is a major factor in the evolution of human organization. Technology embodies the cumulative totality of human learning and permits the dissemination and leveraging of knowledge and know-how interpersonally through cultural exchange, or remotely by way of artifacts possessed of embedded technology. Technology increases the economic yield of human endeavors, which multiplies the resources and opportunity for further exploration, discovery, and innovation of yet more advantageous technologies.
This paper examines dystechnia as a driver of technology entrepreneurship: Entrepreneurship seeks to shift the established means of economic creation and control; technology can enable dramatic efficiencies of scale and scope to facilitate entrepreneurial objectives. Technology entrepreneurship seeks to shift economic opportunities from established firms and industries to new ventures by the introduction or modification of new technology inventions or innovations.
An entrepreneur's ability to predict the future (or this individual's confident belief in possessing such ability) and relentless, self-confident pursuit of this vision represent specialized and exceptional thinking, learning, and decision-making because of the innately unpredictable and precarious proposition of launching a new business venture, especially in technology markets which are turbulent.
Many behavioral attributes, thought processes, and decision strategies of entrepreneurs may seem markedly radical or aberrant if benchmarked against managerial best practices at the level of the firm, industry, or institution. It poses a very different set of challenges to advance a business from concept to startup than to sustain or grow a going concern, but what are the salient traits or behaviors that spell success, and how might they be codified and measured? How is success or failure evaluated?
This research attempts to establish some critical factors attributable to the entrepreneur as the originator of new organizations of economic creation and control, independent of market challenges, specifically investigating what defines and distinguishes an entrepreneur and how the individual characteristics of the entrepreneur can be evaluated against entrepreneurial outcomes.
An interdisciplinary theory base draws from literature and vocabulary in the fields of entrepreneurship, management science, organizational theory, economics, philosophy, psychology, and sociology. The research focuses on the following topical areas of inquiry:
"Can a finite set of significant variables be defined for the intrinsic characteristics of individual entrepreneurs and the outcomes of their technology venturing that could permit meaningful parametric modeling?"
a)

Intrinsic characteristics of entrepreneurial actors and actions, including,
"When, how and why are the specific attributes of 'obsessed maniac' and 'clairvoyant oracle' (EG Carayannis,
1998
–
2011
, unpublished lecture notes) observed?"
b)

Actionable benchmarks for practitioners and stakeholders, including:
"What strategies can an entrepreneur or venture partner employ to recognize and remedy dystechnia (Stewart and Carayannis2011) to create opportunities for advantage?"
"When, how and why are higher order learning (Carayannis1993,1994b,1994c,1998,1999a,1999b,2000a,2000b,2008a; Carayannis and Alexander2002) competences and capabilities observed and enacted?"
"When, how and why should 'Strategic Knowledge Serendipity' and 'Strategic Knowledge Arbitrage' (Carayannis
2008a
; Carayannis EG,
2002
–
2009
, unpublished lecture notes; EG Carayannis,
1998
–
2011
, unpublished lecture notes) be leveraged and deployed?"
(c)

Potential metrics for conducting future parametric analyses, including:
"How is success or failure defined and evaluated in the outcomes of Technology Entrepreneurship?"
Employing qualitative analytic techniques triangulated across three complementary data sources, this exploratory and descriptive study intends to inform the scholarly framework of technology entrepreneurship and contribute to the understanding of what factors might be teachable or reinforceable via educational programs for academics or actionable managerial strategies for practitioners.
Many of the concepts set forth in this paper are predicated upon cross-disciplinary terminology that merits specialized delineation for clarity of usage and intent. The most prominent and critical vocabulary terms are defined in the following subsections, as a foundational alphabetic glossary.
Results and discussion
The structure of the 'Mode 3' fractal innovation system (Carayannis2008b,2009; Carayannis and Campbell2006) describes a system of nested, recursive networks, comprised of the stock and flow of socio-technological-economic resources - inputs of land, labor, capital, technology, and entrepreneurship that yield outputs of goods, services, and information - and the outputs of many processes define the inputs of others in turn. Through the communication of network flow, learning and higher learning and knowledge increase (in both stock and flow) which in turn yields technological advancement to further enhance the efficacy of socio-economic network performance (Carayannis1992,1993,1994a,1994b,1994c,1998,1999a,1999b,2000a,2000b,2001,2004,2008a; Carayannis EG1998, unpublished lecture notes; EG Carayannis,1998–2011, unpublished lecture notes; Carayannis EG,2002–2009, unpublished lecture notes; Carayannis and Alexander1999,2002,2004; Carayannis and Campbell2006,2009; Carayannis and Chanaron2007; Carayannis and Gonzalez2003; Carayannis et al.2003,2006,2007; Carayannis and Sipp2006; EG Carayannis and MR Stewart,2007–2011, unpublished lecture notes,2011; Carayannis & von Zedtwitz2005).
Network dynamics are important for understanding the complexity of advanced and knowledge-based societies. Networking links together different modes of knowledge production and knowledge use and connects (sub-nationally, nationally, trans-nationally) different sectors or systems of society. Systems theory, as presented here, is flexible enough for integrating and reconciling systems and networks, thus creating conceptual synergies (Carayannis and Alexander1999,2004; Carayannis and Campbell2006).
Salient to network dynamics, Routti (2003) illuminates:
The knowledge-based economy can be characterized as fractal. It is non-linear, unstable, and stochastic. Like chaos theory, simple algorithms iterated successively yield very complex patterns and interrelationships, as epitomized by the butterfly flapping its wings in the Amazon to trigger a hurricane over the Atlantic months later. The knowledge-based economy creates profit avalanches. Entrance is easy for small, intelligent companies, but there is no space for organic growth; the market is instantly global and a newcomer can attain dominance in ten years. It also differentiates itself by the convergence of technologies, which removes market sector boundaries: wireless, satellite, cable, and telecom no longer belong to discrete sectors. In a mobile information society, services as well are different, impacted by the presence of Internet, virtual organization, or network transactions. Information and Communication Technologies (ICTs) are enablers of change; they release creative potential and knowledge and open up global markets and foster competition. Network transaction economies resemble the most complex network: the human brain.
Conceptual modeling of dystechnia
In the illustrations here, the emerging dark node represents the technology entrepreneur's new enterprise, a new economic entity in the market, filling a new role in an innovative capacity. The emerging dark connections are the transactional pathways that are formed as the new venture is launched and established, new supply chains, new value-adding relationships, new flows of money, information, and knowledge - new efficiencies in the traffic and commerce of the socio-technological network (Stewart2011).
Formation of a central proposition of dystechnia and empirical findings from profiling entrepreneurs
The concept of dystechnia serves to explain what it is that the technology entrepreneur acts upon, proffered here as a theoretical construct emanating from the holism of theoretical framework elucidated in the foregoing sections. The proposition is, thus, dystechnia competently models real, ubiquitous defects or shortcomings in the complex model of recursive, nested, multi-lateral, multi-nodal, multi-modal, and multi-level socio-technological-economic networks of the 21st century fractal innovation ecosystem (Carayannis2008b,2009; Carayannis and Campbell,2006). Dystechnia describes the plethora of defects, gaps, and shortcomings that provide innumerable yet elusive opportunities for technology entrepreneurship.
At this juncture, dystechnia is but a fancy of the authors' thought experiment. The concept is now proposed. The next step along the path toward academic acceptance of the theory of dystechnia is grounded theory building Maxwell (1996) writes:
… theory provides a model or map of why the world is the way it is (Strauss, 1995). It is a simplification of the world, but a simplification aimed at clarifying and explaining some aspect of how it works. Theory is a statement about what is going on with the phenomena that you want to understand. It is not simply a framework, although it can provide that; rather it is a story about what you think is happening and why. A useful theory is one that tells an enlightening story about some phenomenon, one that gives you new insights and broadens your understanding of that phenomenon.
Glaser and Strauss's (1967) term grounded theory does not refer to any particular level of theory but to theory that is inductively developed during a study (or series of studies) and in constant interaction with the data from that study. This theory is grounded in the actual data collected, in contrast to a theory that is developed conceptually and then simply tested against empirical data. In qualitative research, both existing theory and grounded theory are legitimate and valuable.
The research design delineated in the 'Methods' section has enabled us to explore some critical factors attributable to the entrepreneur as social engineer of new organizations of economic creation and control, specifically investigating what defines and distinguishes an entrepreneur and how the individual characteristics of the entrepreneur and entrepreneurial actions can be evaluated against entrepreneurial outcomes. One objective of the research is to begin to inductively develop grounded theory through constant interaction with the data from that study, as prescribed by Maxwell (1996), in several of the newer conceptual constructs reviewed earlier. One of those newer conceptual constructs is proposed to be dystechnia. Specific findings from the data, emerging patterns, and some specifically illuminating instantiations of each are presented in the following subsections.
Personal characteristics: creativity, making something, and innovation
Many subjects presented a facility for creativity in various manifestations, which are perhaps best characterized as a sense of:
1.

The entrepreneur as artist: the lack of a basic resource, product, or service engages the entrepreneurial character in intensely creative periods of innovation that very often result in the resolution of a quandary.

2.

Intense reflection, brainstorming, and explosive bouts of productivity are very often undertaken in the face of urgency.

3.

An almost counter-intuitive enthusiasm sparked by uncertainty. Instead of finding the unanswered question too daunting to approach, the entrepreneur relishes the challenge that each problem represents.
To illustrate from our empirical findings:
My biggest strength was being a creative person. I love to be presented with a problem and then brainstorm to solve it. The structure of a lot of our products came from brainstorming; bringing together an assortment of very smart people as different from me and each other as possible to argue about what can be done and how to do it.
It's all about building something and not about the money. I have plenty of money and it comes and goes, but to create a culture and opportunities for talent, and an enterprise of lasting usefulness and value is what it is all about.
I have an amazing ability to visualize mapping networks. I love troubleshooting and love to teach it. One of my favorite things I tell customers and staff technicians when I'm engaged in troubleshooting—and they'll ask me what is wrong with the system—"If I knew what was wrong, it would be because I had fixed it."
The theme of creativity and innovation is well corroborated in many exemplars to be found in our empirical findings:
Scott McNealy stated, "When we started Sun, I knew there was no way—if we were to adopt Microsoft's operating system—that we could survive long-term. Adopting Unix was our only chance. Going in with our own microprocessor was the only chance we were going to get out from under the chip monopolies. If it flamed out, we could always fall back on the monopolists. But if we did win, we had huge things to gain" (Kelleher et al.,1992).
Disneyland was another bet-the-farm risk, and Disney threw himself obsessively into the park's design, which anticipated many of the best features of modern urban planning, and into the "Imagineering" by which the simulacrums of exotic, even dangerous creatures, places, fantasies could be unthreateningly reproduced. These attractions were better than any movie in his eyes—three dimensional and without narrative problems. They were, indeed, better than life, for they offered false but momentarily thrilling experiences in a sterile, totally controlled environment from which dirt, rudeness, mischance (and anything approaching authentic emotion) had been totally eliminated (Schickel1998).
George Westinghouse saw the potential in ideas. Ideas like using air to stop a train. He also saw potential in people. He was quite willing to purchase the patents of others if he thought they had potential. The best example perhaps is the case where he purchased the patent rights to Nikola Tesla's alternating current induction motor and polyphase system of alternating current. Westinghouse had been working on alternating current for four years before he purchased these patents from the great Serbian inventor. The Tesla patents were an important part of the alternating current puzzle that George Westinghouse had painstakingly been putting together. He bought plenty of ideas and rights, and eventually controlled over 15,000 patents. Westinghouse was also a great engineer. From early childhood he loved all things mechanical. In his father's shops he tinkered continuously. As a young boy, he made a working model of a water wheel. He made a working model of a steamboat at age 14. He made a violin. His first patent was for a rotary steam engine. He started to work on it at age 15 and the patent was granted to him at age 19 … He was never able to make this rotary engine a commercial success, but it's interesting to see the role of high-speed rotating generators, turbines, and electrical motors in the overall success of electrical power (Reis2008).
One secondary subject communicates an explicit glimpse into a personal perspective of entrepreneurial creativity:
Subject G8 describes his routine as going through "cycles of creativity" (Stewart
2011
):"
A.

Obsession – he becomes so engrossed in a new endeavor that his energy level gets really high and he can't think about anything else. This is the most productive phase and much work, but little eating or sleeping gets done during this time.

B.

Dwell – this phase is a more paced level of production in which he moves forward, but his mind begins to wander and bottlenecks or product difficulties begin to hamper progress slightly.

C.

Overwhelmed – a single particularly difficult problem or a flood of hassles and complications can lead to intense frustration and mental blocks.

D.

Shut Down – at this point, further work is unproductive and it only compounds his frustration and stress level. Experience has helped G8 to recognize this phase much sooner than when he started the business. Once recognized, he quickly moves to the final phase.

E.

Recharge – this usually involves a plane trip or just immersion in something not related to work, such as a weekend out at the airplane hanger [subject is a recreational aviator]. Work completely lapses from his consciousness. After enough stress has escaped, an idea will pop into his head on how to "build a better mousetrap" and he will come back to the office "obsessed" with his new idea.
Personal characteristics: natural salesperson, ability to sell idea, and persuasiveness
Many subjects exhibit a flair for communicating with enthusiasm their beliefs in their venture propositions and intrinsically recognize the imperative for coalition-building, team-building, and strategic alliances as prelude and in parallel with selling their products or services. The interpretation of this theme is that the entrepreneur foremost is selling himself or herself, then in succession, selling the venture concept, the business relationships, and then finally the business deliverables.
Entrepreneurship involves making countless promises: promises to make things happen, promises that plans can be made to work out, promises to solve technical problems, and promises to pay or repay quantities of cash in exchange for the faith in the Entrepreneur's ability to deliver on all of these simultaneous promises. Often, the ability to deliver on any one promise is a function of being able to deliver on them all. The venture initiation becomes real when these promises become binding contracts. The system of interdependencies the entrepreneur constructs is also dynamic, comprised of many other actors and factors over which the entrepreneur may have little control beyond the power of persuasion, to persuade others to make things go or conversely perhaps to persuade them to sit still and not run off until other things can be made to happen.
On the subject of salesmanship and the art of persuasion, our research offers some examples:
Strategy is selling from optimistic truth; with leadership like a con man—selling the employees, selling the investors, selling the customer—but from the heart like a white knight.
One area where I did very well was in attracting beta customers—getting real companies to try my software, taking a risk with my product without knowing who I was—but my value proposition was attractive to prospects.
The message is: whatever business you're in, you are selling a service—otherwise it's just another product.
The theme of personal selling power and persuasiveness occurs throughout our empirical findings:
Subject G1 began by selling or auctioning his products on eBay, but once the products garnered more interest, he developed his own web site to better meet demand. The web site currently offers more than 80 product models, each with several customization options, keeping in line with commitment to customer service. Additionally, G1 offers a quality assurance guarantee to ship, for free, a replacement product should any of his products fail owing to normal usage… In addition to the effort that goes into updating the website and fabricating products for orders, G1 spends a great deal of time and energy pursuing direct selling opportunities. He frequently attends competitions which afford him greater visibility via networking to obtain sponsorship arrangements and by obtaining booth space to sell products to spectators (Stewart2011).
By 1995, Jobs was back in the news with a renewed relationship with Apple. Apple's very existence was in doubt until he persuaded Apple's long-time adversary, Microsoft, and its chairman, Bill Gates, to invest $150 million in Apple (Rogowski and Reilly2000).
In the same way that Henry Ford realized that by keeping selections limited (e.g., color choice: black) he could mass-produce economical cars, Kroc kept the menu simple and the standardization high, to mass-produce economical meals. Each patty, for example, had to weigh exactly 1.6 ounces and be exactly 0.221 inches thick. Manuals documented to the second how to make a shake. Then, through massive advertising, Kroc enticed Americans to recognize their need for his product. As Kroc once cleverly said, "The definition of salesmanship is the gentle art of letting the customer have it your way" (Davids1999b).
Personal characteristics: intelligence, analytical ability - know what you don't know and do something about it
This theme spans both cognitive processing and practical self-awareness, permitting the entrepreneur facility for drawing valid inferences from partial information, assimilating learning between disparate experiences and possessing the wisdom to recognize what information, skills, or knowledge are lacking. Intelligence in this context is about learning, self-teaching, recognizing personal gaps in understanding, and seeking and absorbing new knowledge to strengthen one's capacity and competence. We find in our empirical findings many instances, for example, 'Sometimes I bit off more than I could chew and had to bring in specialized subcontractors, but only once did things deteriorate to that point where I really didn't want to do this anymore. So I gave the contract entirely to a qualified collaborator.' or 'It's a failure if company founders don't understand their own levels or areas of expertise—such as when two engineers hire a V.P. of sales but try to tell him how to sell and manage sales.'
This theme is also echoed in our supplemental data sources. In an interview, Bill Gates advises, 'I watch the competitive landscape carefully. Microsoft is always searching for the new thing that is coming along, whether it is in a research lab or at another company. We try to understand what other people are doing, even if their apparent mission is so distant that it is not obvious competition' (Gates1997). In the same interview, Mr. Gates continues, "I don't settle for platitudes when discussing management challenges. A well-chosen platitude can get people thinking in an appropriate framework. What annoys me is the manager whose only contribution is spouting platitudes such as 'We should only do what the customer wants.' This is a poor substitute for thoughtfulness. Of course you want to please customers, but how? What trade-offs are involved?" (Gates1997). Mary Kay Ash "thought she might stay at home and write a career guide that would help other women avoid the pitfalls that had marred her working life. She began making notes of all her negative experiences in business and then made extensive lists of positive experiences that might result in better productivity and happier, more confident employees. What began as an outlet for personal frustration became, in a period of weeks, a blueprint for a workable direct-sales company, the dream company for which Ash herself would love to work. Then, an idea occurred to her: perhaps she should start such a company herself. All she needed was a product, something that could be used up and re-ordered again and again. For nearly a decade Ash had been buying skin softeners from the daughter of a hide tanner who had developed the formulas from tanning solutions. The potions smelled terrible but were very effective in keeping her skin young looking and smooth. Recalling her use of the home brewed skin tonics, Ash told People: They were dark orange and smelled like a skunk, but they made my skin so soft. I'd be giving a Stanley demonstration, and a client would say, 'We know about that bowl cleaner, tell us what you've done to your face.' Ash had discovered her product. Using her life savings of $5,000, she bought the recipes for the skin softeners, furnished a modest storefront in Dallas, and set up a small manufacturing plant. Her first employees included her husband, who handled the legal and financial matters relating to the business; a chemist to create a line of basic skin care products; and a sales force of nine of her friends" (The Pink Producers1981).
Actively positioning for opportunity: vision, seeing what others don't see
Vision is a multi-dimensional theme that encompasses foresight and inspiration, an extra-sensory quality that empowers the entrepreneur to perceive deficiencies in technical capabilities, market needs, or possibly both, and formulate new arrangements of matter, energy, information (molded and enacted via human behaviors and relationships that are not yet scripted) to satisfy the void or simply improve the way the human world works. For many, vision is capricious and arbitrary, a tacit and elusive phenomenon. Others report cultivating and honing a willful prescience through practice. By whichever vision emanates, it impresses a weighty impact on the movements of entrepreneurship. Instances are abundant in all three data sets:
I've always had the opinion that advertising is not the only revenue source on-line. Inspiration came from when I used to be a photographer and couldn't believe how little my work was worth as stock photos. Then at National Geographic I built an extranet and international licensing people started using it for distribution of content to affiliates. But video multimedia starting around 2008, made it crash and there was no system available to solve this problem. No system could handle the streaming and the massive content and the various formats all at once. So I quit that company and set out to build such a system. I spent the next six months getting a team together and started to strategize on how to make it go.
My system was designed to permit project managers in the construction trade to track their field workers' hours and work performance by the workers using their cell phones as mobile data terminals. This was in an era when all the construction workers had begun using cell phones, but there was not a lot of Internet familiarity in the trade, and construction managers were not big on computers. This absence of technology seemed particularly prevalent in the niche craft where I started. My system let the field guys punch in a few codes and the office received a consolidated report of everybody's time allocations by jobsite and task.
I had thought that I was selling a product, but when I switched over to a custom service I made an unsalable product worth $1000 per custom set!
How to go from an idea and a blank sheet of paper to an actual operation on the ground is a hard question to answer because after you've done this a few times, it's so ingrained that it's hard to conjure up a conscious awareness of how a business plan comes to me. I come up with a new business idea every day. But there's an auto-filtration to reject the personal brainstorm—try not to get distracted from all the many things that are going on [at about this time were interrupted by a call from one of the top venture capitalists in the U.S.].
Growing up in communist regime, Subject G3 longed for being able to practice journalism in a censorship-free environment. This aspiration became possible when he relocated to North America. While screening opportunities, he took notice of the emerging Internet and clearly saw the full potential of this new communication tool. According to G3, the majority of media professionals in mid-1990s considered the Internet 'fourth medium', inferior to TV, radio, and newspaper. G3 on the contrary, regarded the Internet as 'first medium'. The reasons are twofold. First, the Internet not only has the individual power of newspaper, radio, and TV but it also can combine their individual effects—prints, sound and vision—in a single platform. Second, the Internet is superior to these media because it can reach far greater number of people at a relatively low cost. … One critical factor contributing to G3's company's success is its strategy to preempt and dominate the Internet news service before its competitors. The timing was perfect. When the company was founded, most of its target customers had noticed English on-line news but could not find comparable service in Chinese version (Stewart2011).
When McGowan looked at the problem his way—from more than one direction—he noticed two things. First, no one could explain to his satisfaction why AT&T deserved its long-distance monopoly. "People said AT&T is so smart and so loved and so big," he recalls. "Or they said that's just the way it is. But I once worked for a railroad that had its own phone system, switchboards and all, so I knew better." Second, he could see that a lean competitor with lower overhead could underprice the giant (Nulty1992).
But Jobs, the co-founder of Apple Computer Inc., saw with startling clarity something few people realized: Computers would not be confined to the laboratories of government and industry; rather, they would become the stuff of everyday life. He forced this development relentlessly—sometimes using his boyish charm and sometimes his fury—by developing "friendly" computers that were small, attractive, inexpensive, and easy to use (Nulty1992).
As one of the most remarkable pioneers in chip technology, Moore has been in the unusual position of defining a law and then making sure it applies. The diminishing size and increasing speed of chips are the driving forces of technological advancement, and Intel, under the leadership of Moore, Robert Noyce and CEO Andy Grove, has changed the focus of buyers from the machine itself to the chip inside. Moore has been at the heart of the new alchemy of computer science for almost four decades, happily admitting he's been at the right place at the right time on more than a few occasions. Moore's progress has been prescient to an uncanny degree (Edwards1994).
Personal characteristics: vision - innateness of entrepreneurial personality, intuition
Some aspects of vision seem to come innately to some entrepreneurs. This is not universally evident, but examples can be found:
I never knew I was an entrepreneur until I was called one. I came up with ideas for better mousetraps and followed my passion.
But the amazing thing about the 44-year-old Gates is that he's been more or less like this since he was 13. That's when, as a raw eighth grader, he started his first company. Traf-O-Data harnessed a computer-like device to track and analyze traffic at busy Seattle intersections. To this day, Gates rues the fact that Traf-O-Data never made a profit-even back then he expected to make money. Indeed, Gates was the kind of kid who would abscond with his dad's copy of FORTUNE and read it in bed late at night with a flashlight (Stewart et al.1999).
Actively positioning for opportunity: strategic networking and alliances
The theme of strategic networking and forming alliances runs through many entrepreneurial stories. The message of the entrepreneur's vision and venture action is multiplied and amplified through the relationships and connections forged along the way. The cliché of it being not what you know but who you know that matters bears more than a modicum of merit here, as does the tired saw that no man is an island. Here are a few illustrative instances from the data:
Networking is extremely important. There was this business brunch—the first one I attended, and I still have clients I met through that group. It's almost like a 'family tree' of clientele, spun off from that one brunch.
One colleague ran into a fellow at a national lab who sits on the board of an industry association, who is well connected at the top of the industry and served as a champion of our concept.
And it turns out that the most innovative (electrical distribution) utility in the world has a COO whom I went to school with!
After about a year into it, I met 'Radio Joe' who was big in sales and needed technical support and consulting, so we teamed in a fairly exclusive reciprocating agreement contract which really boosted business volume.
[Henry Ford] was teamed, by accident, with James Couzens, later a Detroit mayor and U.S. senator, who contributed as much as Ford to the Ford Motor Co.'s early success (Lewis1999).
Then Canion made another pivotal decision that would propel Compaq into becoming the fastest-growing company in the history of American business: He chose to sell the new Compaq portables only through dealers. "It was a selling point for us to sell only through dealers, and it was a basic premise to sell only through resellers," he says. In January 1983, Compaq shipped 200 portables. In December 1983, it shipped 10,000. First-year sales were $111 million, the largest first-year sales in business history (Zarley1997).
Experiencing good fortune: 'happy accidents' (Carayannis and Formica2008) - finding unexpected market opportunity
Another thread of lucky themes entails the unintended encounter with market opportunity; and avenue of sales potential that was not originally visualized but just pops up on the radar when the time is right. Some examples from the data follow:
In India I got two contracts. One, they found us by Internet and sent an email saying they want the product in India. My colleague went to south India and obtained [authorized] a reseller's contract for $1.5 M for the first year. That customer was a university professor, not an engineer for using our software. My colleague stopped in Singapore to meet the Korean reseller, and the next day met another Indian person who was very interested but we had just signed the contract for India. But this man had an office in Dubai, so we let a reseller's contract for Dubai. Later this same fellow developed at his own expense a plan to localize the Indian contract and enlarge coverage.
We fell into claims processing based on our reputation in an esoteric database software. Someone needed claims processing modification from the prosecution to the defense side of the legal trade, and the original developer stalled the client for six months, and said it would take them six months beyond that to make the conversion. We went in and finished the job within one-and-half months. They asked us then to team on a major project.
Kroc was a 52 year-old Dixie Cup salesman when he learned of a new product called the Multimixer, which mixed several milkshakes at once. When Kroc quit his paper-cup job to sell Multimixers, he became acquainted with Mac and Dick McDonald in San Bernardino, California. He observed their fast-food operation firsthand in 1954 and was amazed at the assemblyline production. All the operation needed, he thought, was his Multimixers. Working out a deal with the brothers for the name, Kroc opened his first location in Des Plaines, Illinois, and after more than a year, he had enough money to open other locations. Within five years Kroc, well past the mid-century mark, had 200 restaurants. Within another seven years the company would open 100 new stores per year (Schweikart2001).
Experiencing good fortune: make your own luck - go after it aggressively
Several subjects recounted more methodical means of encouraging good fortune, whether happy accidents of any description came their way. Rather than wait for some elusive convergence of coincidence and circumstance, which no subjects outwardly advocated, the savvy approach is to plan for potential opportunities and maneuver into position to elevate the chance of beneficial returns, a calculated gamble, on a hunch. Several instances are found in the primary data:
The closest thing to strategic planning we had was that we were opportunistically prepared—we would specifically invest in software or skills for staff even if only vaguely related to things we thought we might like to be able to do—up to a reasonable level—simply so if an opportunity presented itself, someone on staff would know something about that application. We called it 'popcorn software'. It was our primary source of organic growth.
One time I gave my crew a two-day free-for-all to come up with new ideas and recommend changes while the executives were at a conference. This led to the cell phone interface that made the Singapore contract possible. I wish the engineers could often be given more time to just explore, with less pressure to deliver a product and curb costs.
I am a synergist entrepreneur; I don't go into the lab and invent a new widget. I look for the trends and try to see where there will be a convergence—to look for multiple non-linear advantages and opportunities—that's where you want to be, to make your entrance.
The meaning of success: technical success
To the entrepreneurial subjects in this research, the meaning of success is a rich and diverse panoply of themes, and it is through the emergence of these themes from the data that considerable depth can be gauged of the varied character of entrepreneurs, and several subpopulations start to stand out. Numerous subjects of a more technically oriented background, not surprisingly related to success factors revolving around the technical performance of their ventures' products or the solutions that were engineered in their entrepreneurial endeavors. For example:
An early technical success was when we hacked a patch into Novell for a major client to bypass value added third-party software (that checked the print queue and often hung, requiring needless service calls) when IBM had said such a patch couldn't be done and Novell said they simply wouldn't do it. This gained us goodwill and credibility with that large client, whose contract later grew to become 65% of our business.
We did a live demo at a conference of every chief firefighter from around the country—it was an all-or-nothing proposition to demo successfully at this exposition. We killed ourselves to get ready—and even up to and including the night before, we tested and adjusted, and tested—and things were not working. But the day of the demo the team made it go, and the fire chiefs returned a standing ovation—where a major competitor had bombed the year before!
In counterpoint, the following example highlights the downside of fixating on technical success: subject G10 asserted, 'The main lesson is that you need to stay customer focused. Never think that you know better than the customer does. The technology has to meet the needs of the customer. You can't just focus on developing to develop'.
The meaning of success: creates or revolutionizes entire industry and revises traditional modes of economic livelihoods
This more dramatic theme did not surface explicitly in our research findings based on input from the primary subjects, although several of them hinted that they played pivotal roles in the emergence of the Internet and the concepts behind some prominent technological applications now taken for granted. From the supplemental data, the magnitude of entrepreneurial impact with respect to the theme of creating or revolutionizing an entire industry or traditional modes of economic livelihood becomes prominent, as illustrated in these excerpts:
Henry Ford (1863–1946) didn't invent the automobile, but he invented the automobile business. When he founded the Ford Motor Co. in 1903, cars were fussy, unreliable, costly novelties. Ford's genius was to make them simple, solid, and inexpensive necessities. In so doing, he built the largest industrial organization of the early 20th century and amassed a personal fortune of $1 billion ($36 billion in today's dollars), but he also placed himself at the forefront of a social revolution that had an immeasurable impact on American life. When he got his Model T rolling in 1908, the horse disappeared so fast that the conversion of acreage from hay to other crops is said to have caused an agricultural revolution. And that was only the beginning (Stewart et al.1999).
Before the Model T, manufacturing was done by craftsmen who made things one at a time. But as Ford adapted the emerging principles of mass production to the automobile and hired tens of thousands of workers to put those principles into practice, he gave rise to an entirely new phenomenon: the blue-collar middle class. Because the jobs were simple and repetitive, he could employ farmers, immigrants, and others who previously had done only manual labor. The five-dollar day gave them the income they needed to afford a home and support a family-and to buy the cars they were making. In creating a huge body of people who shared not only their work but many social and economic interests, Ford, to his lasting regret, spurred the development of industrial labor unions (Stewart et al.1999).
But if you stop and really think about it, Microsoft the company is probably more of a marvel of human creativity and ingenuity than any of its products. Before Gates and Allen started Microsoft, pure software companies didn't exist. Gates identified a business opportunity in what most computer companies saw as a necessary but nettlesome accoutrement to the hardware that pulled in the big bucks. In the end he created a masterpiece (Stewart et al.1999).
Some 13,700 U.S. restaurants later, the same notion of trust embraced by [Ray Kroc, McDonald's founder] in those early years remains a tangible and deeply rooted ideal evident in daily interactions within every aspect of the operation. "McDonald's has revolutionized not only the restaurant industry – and mean the entire restaurant industry but how Americans eat. They really are the leader," comments Steven Anderson, chief executive officer of the Washington, DC-based National Restaurant Association (NRA). "They have a tendency to look at things a little differently than others, but at the same time, people realize that what they are doing is good for the industry overall." McDonald's also has affected the way foods are grown, manufactured, and distributed. In the farm-to-fork chain, the McDonald's imprint is evident in almost every link: the humane treatment of animals, the development of high-tech processing equipment, ground-breaking food safety initiatives, the latest packaging materials, state-of-the-art distribution and storage capabilities, cutting-edge cooking techniques, and extensive employee training, to name a few advances (Petrak,2005).
"One of the most significant accomplishments of our system has remained relatively unknown – that we have changed the nature not only of the food industry but of the food processing industry as well," points out J.C. Gonzalez-Mendez, vice president, supply chain, McDonald's USA. Of course, leadership, as it has been said, does not occur in a vacuum. All of the suppliers with whom Kroc and his successors have partnered with during the past 50 years have had a literal hand in transforming the business from a roadside hamburger stand to one of the country's most trusted brands with restaurants in every state – and in nearly every town – in the country (Petrak2005).
Silicon Valley garnered a reputation as the last bastion of creativity, world leadership, and up-by-the-bootstraps success in a nation coping with spiraling inflation, trade deficits, and a menacing Cold War. During this time, Noyce and other Silicon Valley entrepreneurs cast themselves (and were portrayed by others in books, interviews, and congressional testimony) as winning combinations of Thomas Edison, John Wayne, and Horatio Alger. The sterling image of Silicon Valley influenced the direction and trajectory of the region's economic growth. Engineers, inspired by the example of Noyce and others, set up shop in the proverbial garage instead of going to work for someone else; a plethora of start-up consulting services emerged; and Silicon Valley came to operate in some sense as a self-fulfilling prophecy, a self-perpetuating cycle of entrepreneurship and wealth (Berlin2003).
The meaning of success: altruism, idealism, sense of mission, serving the greater good, and heroism
Very significant emphasis recurred in all the data sources evincing and underscoring the theme of altruism, idealism, sense of mission, serving the greater good, and heroism. Subjects reported about themselves a strong sense of mission, and in the secondary and tertiary sources, other contributors reported the same perspective for the subjects of whom they wrote. Examples are abundant from all sources, such as follows:
The thing that was greatest in my career was in one of my prior ventures, involving global telecommunications. It was not just the realization that we had fully finalized a satellite-launch enterprise, but in so doing we changed the world's international telecom forever. We broke up a system of government sanctioned monopolies, to make the market more open and liberate the economic dynamic and the service dynamic. There wouldn't be 300 television channels if not for that change. Since age 21, I didn't want to see change 'at the point of a gun'. I instead did good work, changed things for the better, employed a lot of people. Makes you feel good to do this stuff.
Seeing this one specific project from quiet research to live installation has been the most rewarding—working a lot in the field to do something that has never happened before.
The more we learn about this brilliant, dogged, at times merciless, and yet supple entrepreneur, the more we realize that he believes he is out to change the world. And that's what seems to motivate him. He shows almost no need to display his financial worth and power. (Jobs does have a Gulfstream V, but there are few other trappings of great wealth around him or his family.) No, the revolution of which Jobs is so much a part is unfolding by virtue of the products he makes and how consumers use them. It is a mostly peaceful revolution that will, in Steve Jobs' eyes, liberate men and women around the world (xKoehn2009).
In counterpoint to McGowan's modest self-assessment, industry observers described his role as "historic" and said he was "a vital catalyst." Some argued that without McGowan's persistent, 16-year pursuit of AT&T, the 1984 breakup of "Ma Bell" might not have occurred for decades—if at all. Behind that 16-year fight was McGowan's belief that "it was immoral and undemocratic that one company should have sole access to that market," said Daniel Reingold, a telecommunications analyst at Morgan Stanley & Co. in New York who worked at MCI for six years. "It's not clear to me that without Bill McGowan there would have been a divestiture," said Glenn Pafumi, now an independent options trader who had covered MCI extensively as a Merrill Lynch & Co. analyst. The most obvious result of McGowan's push for divestiture was competition in the long-distance marketplace and better rates for customers. MCI certainly profited, growing from $100,000 in revenue in 1978 to $9.5 billion [in 1991] (Booker1992).
Obstacles: regulatory barriers and institutional and cultural obstacles
No venturing entrepreneur could claim credible understanding of the meaning of success in the foregoing passages without presumably encountering, and working through or around, any of myriad obstacles. The data evince one such category of challenges to be regulatory barriers and institutional and cultural obstacles. This theme delineates resistance to new venture progress arising from existing laws, policies, traditions, practices, conventions, and limits of human understanding or imagination with regard to business processes and technology, in brief, factors embedded in the socio-technological-economic environment. Some instances of these obstacles are presented below:
Existing customers with the incumbent were locked-in through on-net plans in lieu of paying the interconnects that any potential new venture was facing.
You can't shut down a well without huge fixed costs to start it up again, and an idle well loses the lease—it's the way it's regulated.
Our failure was due to a Board of Directors we naively assumed were capable. They were a bunch of mergers-and-acquisitions retirees from Goldman Sachs or Merrill Lynch—places like that. At the time they seemed like the perfect people for a board, but their specialization was how to merge industrial firms—they could buy and sell steel mills and oil refineries—but they were not savvy to the theme of marketing in the new era.
According to Bill Gates, "…in relation to its development costs, [OS/2] is the biggest disaster the software industry has ever seen. Between IBM and Microsoft, we lost more money on that than any software project I've ever heard of. The whole feature set was driven by IBM wanting to have its Extended Edition—very SAA mainframish things instead of things for desktop users. Joint development with IBM was full of challenges. [I learned that] to get features into the marketplace, you can't have these huge leaps where you have to buy a very big system and do new things. Evolution is more appropriate. Also, we believed that working with IBM would make the thing a success no matter what. We've certainly come away from that view (Kelleher et al.1992).
In 1968, McGowan was invited to help rescue Microwave Communications Inc., a struggling startup in Chicago that planned to offer radio-telephone service to trucks traveling between Chicago and St. Louis. But the company needed FCC approval to establish its microwave system, and mighty AT&T, which had a near monopoly on long-distance service, was opposed (Nulty1992).
Obstacles: attaining market credibility and adoption
Even if the environment is free and fully supportive, finances are adequate for progress, and competition is not steep; there is an inherent hurdle for a new venture to attain market credibility, particularly if imposed with new technology seeking market adoption. The societal learning curve is not always steep, particularly if the new technology represents a radical departure from the familiar or is not yet embedded with the self-explanatory feature termed 'user-friendliness'. Informing the market about a new alternative can be very costly, and training the market why to select and how to use the new alternative costlier still. Foremost, the new venture will probably need to garner positive attention and recognition just to start those larger wheels turning. The primary data sources offer some instances:
We tried to overcome their objection by showing how our product saves lives. But the investors said simply that there won't be another earthquake!
Right now I have 3,000 fans and followers but only 100 have voted positively for me in my own space. Most connections are for spamming and marketing, which is what we are trying eliminate for our target customers.
I'm not very happy with the pace of progress compared with our plan—we're a little light, and we'll be at a competitive disadvantage as competitors will have more time to get ahead of the market curve. There are high barriers to entry; it is hard to get in. But once there, it is hard for competitors to get in too.
Here is an example from our research findings that enlarge and illuminate this thematic code:
Subject G21 confirms that having a client is more demanding than working for a boss. The client practically owns you, and that having a bad client can destroy a business. Also his most important insight about clients and business is that, it might not be enough to have value in a business, but what counts most is whether customers perceives value in your business (Stewart2011).
Conclusions
This research has identified some of the strategies an entrepreneur or venture partner can employ to recognize and remedy dystechnia and create opportunities for advantage. The concept of dystechnia proposed herein is not about mere individual challenges to learning and adoption as described by Feltham (2004), although that aspect is certainly a core contributing cause. Our findings propose a thesis on dystechnia in the organizational and institutional context, to examine the phenomenon of disconnect between users and technology resources, and flaws in the socio-technological network.
Owing to the resolution of findings and the non-specific lack of framing that is critical in valid grounded theory building, there are but a few thematic codes that emerge from the data to evoke the recognition and remedy of dystechnia. These are:
Personal characteristics: creativity, innovativeness

Actively positioning for opportunity: vision, seeing what others don't see
Some illustrative incidences from the data:
This was my second venture. The first was a bill presentation and payment system on the Internet partnered with Lockheed and one of the big, early Internet applications providers. It was the first project to put bills on the Web for payment. One day, my wife received a package she had ordered from eBay. She explained to me how she had had to send them a check, which had to clear before shipping—two weeks later. So using the transaction model I had developed in the prior company, we went to work to put together Internet payments by email. This was before eBay had become a premier entity—there was a whole host of on-line auction sites, 20 or 30 at the time. Within a year all had disappeared except eBay. My best moment was the first transaction from a client on eBay; after that it all just became work. The realization when I understood what the problem was and that I had the solution—when it came to me, "You're kidding! That's how they're doing this?" Sending checks around the country and waiting weeks for them to clear? Yeah, sure…I have the knowledge to do it right, it was gratifying—until PayPal changed all that.
I've always had the opinion that advertising is not the only revenue source on-line. Inspiration came from when I used to be a photographer and couldn't believe how little my work was worth as stock photos. Then at National Geographic I built an extranet and international licensing people started using it for distribution of content to affiliates. But video multimedia starting around 2008, made it crash and there was no system available to solve this problem. No system could handle the streaming and the massive content and the various formats all at once. So I quit that company and set out to build such a system.
My system was designed to permit project managers in the construction trade to track their field workers' hours and work performance by the workers using their cell phones as mobile data terminals. This was in an era when all the construction workers had begun using cell phones, but there was not a lot of Internet familiarity in the trade, and construction managers were not big on computers. This absence of technology seemed particularly prevalent in the niche craft where I started. My system let the field guys punch in a few codes and the office received a consolidated report of everybody's time allocations by jobsite and task.
The data are, in fact, rich with many more examples of the entrepreneurial process whereby an individual actor recognizes two critical conditions:
1.

A problem: A situation involving social exchange (whether at home, at work, out in society, in business, in government, at any level of interface) where the way things are done is less efficient or less effective or more cumbersome or more unpleasant than the way it 'ought' to be or the way that it can be.

2.

A solution: The conception of a potential revision in the process, whereby the social exchange is transacted by the introduction of new or altered relationships, lines of communication, or mechanisms of exchange, and enabled by the deployment of new technology or innovative enhancements to existing technology.
The problem as stated in the foregoing is a condition of dystechnia. It takes the makings of a technology entrepreneur to recognize the problem and interpret it as an opportunity, then to visualize and conceive a solution to the perceived condition of dystechnia. Recognition of a problem and conception of a solution are not enough, however, as the entrepreneurial phenomenon demands that action be taken to bring resources to bear on the implementation of the conceived solution.
Methods
The methodology employed for this research covers almost purely qualitative methods—specifically thematic coding and inductive development of grounded-theory—with nominal content analysis. Thematic analysis was used to inductively interpret insights from complementary data sources, and thereby attempt to attain and assess the spectrum of answers to the questions stated at (a), (b) and (c) in the introductory Background section of this paper. Qualitative thematic analysis was conducted on each of three triangulated data sources.
Thematic analysis is a highly inductive data analysis wherein themes emerge from the data and are not imposed by the researcher. It covers a spectrum of qualitative methodologies and analytic techniques. At one end is
content analysis
, in which textual data are tagged with tightly defined and largely predetermined codes, allowing statistical as well as qualitative analyses. At the other end is
grounded theory,
where there is no
a priori
definition of codes. Thematic analysis is known by several names, including 'template analysis', 'codebook analysis', and 'thematic coding' (King
1998
).
(a)

Primary data from new surveys and interviews was collected from a specifically targeted subject pool of technology entrepreneurs, as detailed in the following subsection on 'Primary data'.

(b)

Secondary data was obtained from a contributed collection of entrepreneurial profiles and interviews resident with the Global and Entrepreneurial Finance Research Institute (GEFRI), as detailed in the following subsection on 'Secondary data'. GEFRI supports the creation and dissemination of knowledge in the areas of globalization of markets, finance and technology, and their impact on the financing of new or emerging business opportunities. Support is provided through targeted research grants, research excellence awards, conferences, a working paper series, and educational programs. GEFRI is located on the George Washington University campus in Washington, DC (Global and Entrepreneurial Finance Research Institute 2007).

(c)

Tertiary data was drawn from published sources: biographical and historical accounts of publicly known entrepreneurial individuals that were obtained by extensive library research, as detailed in the following subsection on 'Tertiary data'.
The concise map of triangulated data sources is depicted in Figure
6
.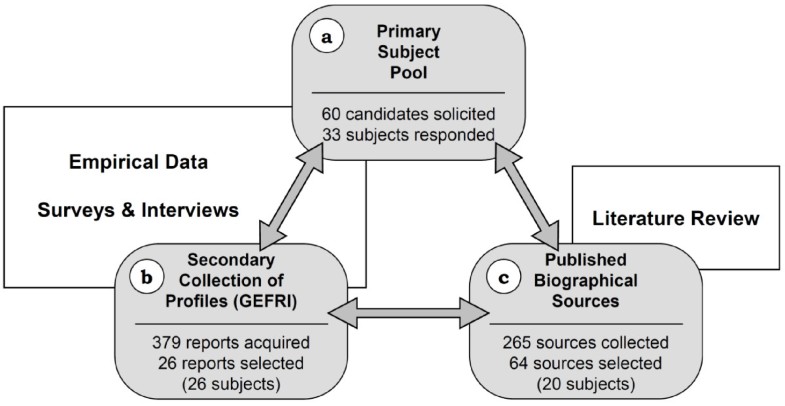 Data inclusion criteria
In each of the three data sources, the data records were compiled to represent some aspect or aspects of the nature, actions, or experiences of a subject technology entrepreneur, the entrepreneur reflecting the unit of analysis of this study. Only the data records that met the following inclusion criteria were retained:
1.

Subject must be or must have been a technology entrepreneur. For the purpose of this study, technology entrepreneur is defined as a principal actor in the founding of at least one technology-driven or technology-based business venture, whether or not the venture(s) persisted as going concern(s).

2.

For the definition of this research, technology venturing involves the creation or implementation of new technology-driven or technology-based for-profit business organizations.

3.

For the definition of this research, entrepreneurship entails all phases of conception, planning, implementation, and startup.
Data exclusion criteria
Data records that meet the following exclusion criteria are rejected as null:
1.

Franchisees, who are not really entrepreneurs but contract to an existing business formula.

2.

Entrepreneurs who have launched startups based on non-technological goods or services or pre-established technology-neutral markets and technology-neutral deployments and delivery mechanisms.

3.

Inventors and self-employed operators who have not founded a formal business entity and attempted to bring a venture conception to market.

4.

Self-employed professional practitioners (e.g., doctors, dentists, management consultants, caterers, decorators, etc.) unless they have established their enterprise with a competitively differentiating technological innovation.
Primary data
Primary data records were obtained from live human subjects via written surveys and oral interviews. All contact with human subjects was conducted in conformance with established standards for human research.
The procedure for human subject data collection required four steps:
1.

Recruitment and screening of candidate subjects based on the selection criteria stated above.

2.

Administration of a written survey instrument to pre-qualified candidates.

3.

Follow-up of each survey response with an open-ended interview.

4.

Processing written surveys and transcription of the interviews verbatim to enable thematic coding, thematic analysis, and grounded-theory building.
From the perspective of the principle that qualitative grounded theory emerges from the language of the subjects reporting their own first-hand experiences, the open-ended interview was a rich and substantive component of the primary data collection. To this extent, an integral purpose of the written survey was to provide an entrée to the interview process, hence the procedural sequence of administering the survey first, then engaging in a follow-on interview. The researcher employed critical interview technique, a "qualitative interview procedure which facilitates the investigation of significant occurrences" (Chell1998) for the semi-structured interviews, customized to each subject by the researcher based on retrospective analysis of the subject's written survey data and designed to elicit spontaneous candid reflection from the interview subject. The interview format permitted the researcher to capture an enriched depth of data without asking the subject to do an improbable amount of composing on a lengthier survey instrument.
Secondary data
Empirical data from the secondary dataset of GEFRI-contributed entrepreneurial profiles were used to refine and corroborate the coding and thematic categorization of the primary data and to reinforce the validity of findings through partial triangulation. The characteristics of the GEFRI dataset and the procedures followed to prepare the data were as follows:
1.

The GEFRI data were compiled over approximately 10 years from projects produced by graduate students in business venturing and entrepreneurship classes, following open-ended templates of suggested interview topics.

2.

The reports were parsed and culled to remove duplicates produced by different students of the same entrepreneur, subjects who were not technology entrepreneurs as strictly defined in this research, incomplete reports, or other disqualifying causes.

3.

The researcher visually parsed each qualifying report to flag key points of data and information, in congruence with the procedure specified for primary data survey and interview texts, interpreting the findings to compare secondary data excerpts against the thematic codes developed for the primary dataset.

4.

The researcher consolidated thematically comparable passages from the secondary data into the resultant categories, grouping the excerpts to produce tables of evidentiary text that support the thematic categorizations and also looking for contrasting, anomalous, or surprising themes respective of the primary data.
Tertiary data
Tertiary biographical data drawn from published sources were used to refine and corroborate the coding and thematic categorization of the primary and secondary data and to reinforce the validity of findings through further triangulation. The characteristics of the biographical dataset and the procedures followed to prepare the data are as follows:
1.

Biographical and historical accounts of publicly known entrepreneurial individuals were obtained via extensive library research. The database of collected items included news articles and investigative or scholarly reports, covering aspects of the entrepreneurs' lives, their careers, the ventures they helped launch, or once current events salient thereto. The biographical items had been published by journalists, historians, analysts, and academic researchers in reliable media sources, refereed articles, and trade association and company archives.

2.

Source items were culled to remove duplicates in alternative formats, items lacking in relevant, reliable content (e.g., posts from online gossip blogs), disqualifying subjects not technology entrepreneurs as strictly defined in this research, and entire biographical books too voluminous to permit practical thematic analysis of contents.

3.

The selected entrepreneurs provided a cross-section of subjects diversified across industry, demographics, and time.

4.

The researcher visually parsed each biographical account to flag key points of data and information in congruence with the procedures specified for the primary data survey and interview texts, and the secondary profile reports.

5.

The researcher interpreted the flagged findings to compare coded tertiary data excerpts against the findings developed for the primary dataset consolidating thematically comparable passages from the tertiary data into the resultant categories, grouping the excerpts to produce tables of evidentiary text that supported the thematic categorizations, and also looking for contrasting, anomalous, or surprising themes respective of the other datasets.
Authors' Affiliations
(1)
Department of Information Systems and Technology Management, The George Washington University School of Business, Washington, USA
Copyright
© Stewart and Carayannis.; licensee Springer. 2013
This article is published under license to BioMed Central Ltd. This is an Open Access article distributed under the terms of the Creative Commons Attribution License (http://creativecommons.org/licenses/by/2.0), which permits unrestricted use, distribution, and reproduction in any medium, provided the original work is properly cited.