Dialectic evolution through the social innovation process: from microcredit to microfinance
Journal of Innovation and Entrepreneurship
A Systems View Across Time and Space
2014
3:4
Received: 23 September 2013
Accepted: 4 October 2013
Published: 14 January 2014
Abstract
Microfinance is the provision of financial services to the financially excluded, usually the poor. We use literature reviews and descriptive research to present different aspects of the relationship of the microfinancial services to microenterprise. The first thrust in this field had been from microcredit and group lending to encourage business initiatives among the poor. The hope that these services would lift them out of poverty had largely built the brand image of the sector. However, the spread of consumer microcredit and uncontrolled growth of microfinance led to over-lending without adequate checks and balances, leading to over-indebtedness and associated stress, and critique of microcredit. To restore balance, other financial products, such as microequity, microsavings, microinsurance, microguarantees, and microremittances, have been suggested. We place these developments in a social innovation process perspective by showing that microfinance, through its wide range of innovatively distributed products, can be a key factor to foster entrepreneurship.
Keywords
Entrepreneurship
Microcredit
Microequity
Microinsurance
Microsavings
Microremittances
Microguarantee
Innovation
Background
Addressing poverty is a complex issue. Different researchers and professionals have focused on different tools. For example, De Soto (2000) stresses that the absence of property rights keeps countries from developing, Prahalad (2006) feels that the least of the poor should be targeted as consumers and included into the market, Karnani (2007) feels that there is no fortune at the bottom of the pyramid and the poor need public sector jobs, and Ashta (2013b) feels the need for raising minimum wages for those who already have jobs. Sachs (2005) feels that the very poor are so incapacitated that only donations would help, and Yunus (2003) recommends microcredit. There are many other issues involved such as health and education. All these researchers and practitioners realize that the tool they are focusing on is just one in a bag of tools required to increase the capital of the poor: Since the governments of these countries are poor and cannot provide the basic services such as property rights, adequate public works, or even high-enough minimum wages, one possible solution advocated is self-help: for the poor to rise from poverty requires them to become microentrepreneurs and take charge of their own fate. The free market has not solved the problem because entrepreneurship requires financial capital, social capital, and human capital.
A social innovation is therefore required because existing public and private institutions cannot solve the problem. Schumpeter (1935) considers innovation as the production of a new good, the introduction of a new method of production, the opening of a new market, the conquest of a new source of raw material, and the creation of a new organization. Social innovation means that new forms of social relations are required in order to overcome the financial and social exclusion and create empowerment (Moulaert et al. 2013b). Evidently, this requires overcoming conservative forces which would prefer to perpetuate the existing system or try to take over any new system to its own advantage and, thus, either perpetuate the exclusion or find new ways to exploit (Moulaert et al. 2013a). This agency paradox needs to be overcome by institutional entrepreneurs, aiming at creating, maintaining, and disrupting institutions (Lawrence et al. 2009). They do this by influencing public policy and legislation.
Microcredit is one example of a social innovation because it is an initiative taken by actors in order to provide new answers to social problems (social and financial exclusion, poverty) and a device capable of providing services to enable construction of a society with high levels of quality of life. Hence, it is also a social innovation (Assogba 2007; Couchoro 2001) in the sense of focus on being a response to social needs (Cloutier 2003). It may also impact the environment because it is focused on a local development. It has developed new social relations in different ways (Ashta et al. 2013) that have included getting conservative local actors to work towards inclusion (Marti and Mair 2009). However, there are a multitude of conservative actors who are nonlocal and would like to use the microcredit movement to suit their own ends instead of developing entrepreneurship. We therefore need to provide other solutions to mitigate the misuse of microcredit. One such solution is to provide other financial products and go from microcredit to microfinance. In this paper, we focus on microfinance and whether the new financial products can develop entrepreneurship.
Microfinance is the provision of financial services to the poor and the financially excluded. These financial services include credit, savings, insurance, remittances, and guarantees, among others. As a result, an associated vocabulary includes microcredit, microsavings, microinsurance, microremittances, and microguarantees. A relatively new focus has been on providing microequity.
The major common problem of providing all these services to the poor is that the transaction size is very small. As a result, any processing cost, or transaction cost, becomes a high percentage of the transaction amount. This makes the product very expensive for commercial banks and formal financial institutions to provide these services to the poor, who therefore remain excluded. A second common problem is that the poor not only lack financial capital but are also often socially excluded and lack bridges to rich people. A third common problem is that they are often uneducated, even illiterate, and excluded from technological innovations.
To solve these problems, microfinance institutions (MFIs) have created social innovations which permit them to offer financial products which were otherwise not viable commercially (Armendàriz and Morduch 2010). Seeing the success of MFIs, hitherto conservative commercial financial institutions are also downscaling to profit from the vast market at the bottom of the pyramid. All of these are trying to use advanced technologies such as management information systems, mobile banking, and online financing to increase their outreach (Ashta et al. 2011). The question is whether their own ideological heritage will permit conservative institutions to foster entrepreneurship or to turn the system to their advantage.
Research methodology
Our research methodology is to use literature reviews and descriptive research based on empirical data from secondary sources. Such research is a good starting point to take inventory as well as to find patterns based on which future analytical research can find explanations.
Descriptive research on industry dynamics has identified a dominant pattern where prices fall, output rises, and the number of firms rises and then falls over time. Several models have been advanced to explain these patterns (Lenox et al. 2007).
The descriptive research on compliance costs emphasizes the burden of compliance costs, with little attention to measuring any benefits from tax planning. In contrast, the analytical research in tax evasion suggests an incremental benefit of compliance costs in reducing taxes (Mills 1996).
In fact, there is a growing field which considers that too many papers unnecessarily develop theoretical models rather than simply presenting their findings (Leung 2011; Hambrick 2007).
Results and discussion
We will start with the relationship of entrepreneurship to microcredit because it is the most developed product in microfinance. But today, it is being increasingly realized that other complimentary financial products are necessary for the poor, and the relationship of these to entrepreneurship will be discussed in the next part.
Microcredit and entrepreneurship
Other microfinance products and entrepreneurship
To overcome the criticisms of microcredit, which could be viewed as conservative actors taking over the work of social innovators and institutional entrepreneurs to suit their own ends, it is evident that new avenues need to be explored. One response has been to indicate that for microcredit to be useful, the poor need a range of other financial products. Social entrepreneurs are therefore trying to provide these additional financial services. Evidently, if ways of diffusing other financial products to the masses can be found through social innovation, then conservative actors too could take over these innovations to suit their own ends. These new financial products include guarantees, insurance, savings remittances, and equity, as shown in Figure
4
. In this part, we look at the relatively smaller literature on these aspects to see if these financial products would foster entrepreneurship and, through this, an end to poverty or whether it would merely impact consumption.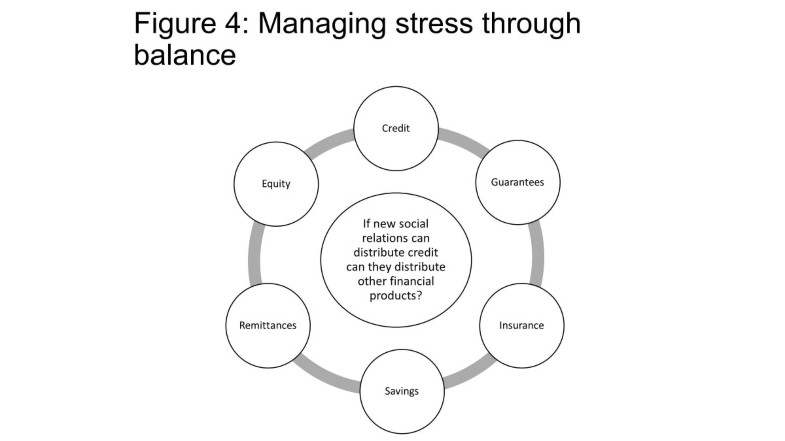 Conclusions
Microfinance has come out with a number of financial products to satisfy an unserved market through innovative distribution. The market was unserved because the size of the products was too large, entailing high costs and high risks for financial institutions. By reducing the size of the product and by distributing it through new channels, microfinance has effectively created an innovation. Moreover, microfinance has shown the entrepreneurial potential of the poor and their ability to create their own jobs. It is therefore an innovation that fosters entrepreneurship which allows recipients to develop a wide range of productive activities that generate revenues.
Microfinance is evolving both as a social institution as well as in utilizing new technologies such as cloud computing information systems, mobile banking, and online financing of microfinance institutions for the development of its outreach (Ashta et al. 2011). Many of the financial services being targeted to the poor, including microsavings, microinsurance, remittances, and government-to-poor payments, are based on innovative institutional creation. All of these represent areas for future research.
Our paper has presented an application to illustrate the dialectics in the social innovation process as presented in Figure
5
. The entrepreneur lacked financing since the banker did not trust him. This social problem was solved by social innovations presented in microcredit. These social innovations were blocked by conservative forces at a local level. To influence public policy, the social entrepreneur therefore needs to attract public policy support, including donors and regulators. Once social innovation is proved successful, banks and other for-profits can take over the microcredit movement. However, their use of this leads to new forms of stress for the microenterpreneur. This in turn requires new social innovations to provide services such as microguarantees, microinsurance, microsavings, microremittances, and microequity.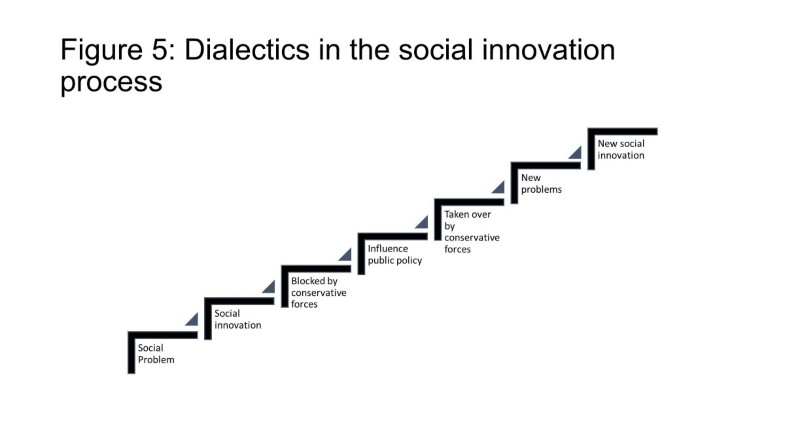 Authors' Affiliations
(1)
Holder of the Banque Populaire Chair in Microfinance at the Burgundy School of Business (ESC Dijon-Bourgogne), CEREN, CERMi, Dijon, France
(2)
Togo, CERFEG, FASEG, Université de Lomé, Lome, Togo
(3)
Credit and Development Forum, Dhaka, Bangladesh
Copyright
© Ashta et al.; licensee Springer. 2014
This article is published under license to BioMed Central Ltd. This is an Open Access article distributed under the terms of the Creative Commons Attribution License (http://creativecommons.org/licenses/by/2.0), which permits unrestricted use, distribution, and reproduction in any medium, provided the original work is properly cited.