Laboratory experiments in innovation research: a methodological overview and a review of the current literature
Journal of Innovation and Entrepreneurship
A Systems View Across Time and Space
2016
5:24
Received: 28 January 2016
Accepted: 31 May 2016
Published: 13 June 2016
Abstract
Innovation research has developed a broad set of methodological approaches in recent decades. In this paper, we propose laboratory experiments as a fruitful methodological addition to the existing methods in innovation research. Therefore, we provide an overview of the existing methods, discuss the advantages and limitations of laboratory experiments, and review experimental studies dealing with different fields of innovation policy, namely intellectual property rights, financial instruments, payment schemes, and R&D competition. These studies show that laboratory experiments can fruitfully complement the established methods in innovation research and provide novel empirical evidence by creating and analyzing counterfactual situations.
Keywords
Innovation research
Laboratory experiments
Methodology
Introduction
Fostering research and innovativeness to support economic growth and increase competitiveness has become a central paradigm for policy makers worldwide in recent decades. The European Commission has recently reaffirmed this goal by committing to spend up to 3 % of the European Union's GDP to support private innovation activity until 2020. By means of this and other policy instruments, the EU thus aims to become an "innovation union" (COM(2014) 339). This paradigmatic focus has been adopted by the scientific community, which similarly discusses the topics of innovation and industrial policy broadly, trying to obtain insights and provide advice to policy makers concerning the design of policy instruments that optimally foster innovation activity (Mazzucato et al. 2015).
Economic innovation research traditionally argues for government intervention in the case of market failure, which is characterized by the imperfect allocation of resources, for example, due to imperfect competition, information failures, negative externalities, public goods, and coordination failures (Bator, 1958). Given the political commitment to foster innovation activity, government interventions can provide remedies to market failures. For this purpose, several distinct methods of supporting private economic subjects in their innovation activities have been developed. Firstly, regulatory instruments such as rules, norms, and standards have been introduced, such as patents and copyright law. These regulations are compulsory for all economic actors and thus shape the overall market conditions for innovative products and processes. Secondly, financial instruments have been introduced to promote innovative activity, with examples including subsidies, cash grants, and reduced interest-loans, as well as disincentives like tariffs, taxes, and charges. Thirdly, there are "soft" instruments that include normative incentives such as moral appeals to economic actors and voluntary commitments like technical standards or public-private partnerships (Borrás and Edquist 2013; Vedung 1998).
To analyze and evaluate the effects and optimal design of these instruments, economic innovation research has established a large number of empirical research methods. Along with the overall expansion and professionalization of experimental economics, behavioral evidence collected in laboratory experiments have become a vital complement to economic innovation research in recent years. Following Sørensen et al. (2010) and Chetty (2015), we suggest that lab experiments constitute a promising addition to the methodological toolkit in innovation research, thus advancing novel insights and providing predictions and policy implications by incorporating behavioral factors. We thus argue that laboratory experiments should be used if they yield additional evidence unattainable by other methods in a particular field of study. This resonates with the arguments by Falk and Heckman (2009); Chetty (2015); Madrian (2014); and Weimann (2015), who propose a pragmatic approach concerning the use of evidence derived from experimental methods, arguing that all empirical methods should be viewed as complementary (Falk and Heckman 2009). In this paper, we aim to contribute to the growing field of experimental innovation research, firstly by outlining the advantages and limitations of different methodological approaches in innovation research and more specifically laboratory experiments. Secondly, since former papers have not attempted to summarize and structure the existing experimental literature, we provide a literature review of the existing experimental approaches to the field of innovation policy with the most important studies from four sub-fields in which lab experiments have been conducted to date. We conclude by emphasizing the further use of laboratory experiments to innovation research.
This paper is structured as follows: in chapter two, we outline the range of methods in economic innovation research, before discussing the scopes of the experimental method in detail in chapter three. Subsequently, we present a selection of laboratory experiments in the field of innovation policy, namely intellectual property rights, financial instruments, payment schemes, and R&D competition. A conclusion is finally provided in chapter four.
Methodological approaches in innovation research
A large number of research methods have been developed to analyze which policy instruments might best foster innovative activity. Weimann (
2015
, pp. 247–248) categorizes the different methods of generating insight by their features regarding their ability to identify causal relations, their generalizability to other contexts (external validity) as well as their broad applicability; particularly, the trade-off between causality and external validity is emphasized. Thus, Weimann distinguishes between (1) neoclassical models pointing out causal relationships, (2) "traditional" empirical research primarily showing correlations, (3) natural experiments attempting to substantiate causal relationships, (4) randomized field experiments that optimally offset the trade-off between causality and external validity, and (5) laboratory experiments providing a strong causality, yet lacking external validity. Figure
1
provides an overview of these methodological approaches and their features in a Venn diagram. The figure shows that none of the existing methods is able to fulfill all three features identified by Weimann (
2015
) but can only meet one or two criteria.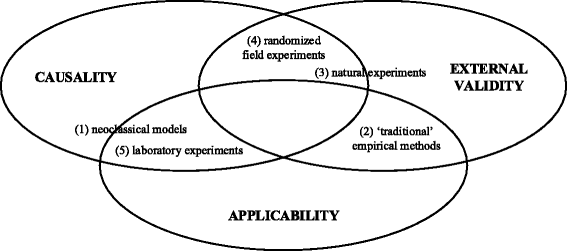 (1) Neoclassical models such as game theoretical or general equilibrium models have the advantages of enabling deriving causal relations and being easily applicable, yet they often lack external validity. Empirical investigations in innovation economics most commonly use the methods of (2) "traditional" empirical economic research, for instance, official patent statistics or micro firm-level data from surveys. For this, OLS estimations are considered appropriate to analyze and quantify observable variables of innovation processes; however, for dynamic effects, these methods often lead to problems of causality, endogeneity, and selectivity. A further shortcoming of using this form of data is that innovation surveys necessarily rely on the entrepreneurs' willingness to voluntarily disclose information about their firm, which potentially biases the data. Furthermore, the extent to which government funding is actually used for research by the firms often remains unclear and the public funding decisions often lead to a selectivity bias, thus making public funding an endogenous variable, which establishes further dependencies between the respective variables (Busom, 2000). Moreover, patents and patent pools are often used as an approximation for the innovation activity to estimate the firms' innovation output. This prompts a number of issues, for example, because small and medium enterprises use other forms of protecting their innovations and patent less than large firms, due to potentially expensive patent litigations and patent theft (Thomä and Bizer 2013). Nevertheless, this methodological approach to innovation research has strongly improved its data availability, methods, and research designs in the past 25 years, implementing methods such as difference-in-difference estimators, sample selection models, instrumental variables, and non-parametric matching methods (Angrist and Pischke 2010; Zúñiga-Vicente et al. 2014). Overall, this approach entails a high level of external validity and applicability but often only a low level of causality.
Another empirical means of evaluating policy instruments is (3) natural experiments, which feature a high level of external validity. Furthermore, due to improved methodological approaches, causal relations have substantiated in recent years. However, the applicability is often low, since it is difficult to find appropriate control groups that could enable a clear comparison (Weimann 2015).
It has been argued that the issues involved with using the "traditional" methods of empirical economic can best be solved by conducting (4) randomized field experiments in which real-life incidents are treated similar to experiments. They are considered the "gold standard" for evaluating new policy instruments as they enable identifying causality rather than mere correlations (Boockmann et al. 2014; Falck et al. 2013). As an example, Chatterji et al. (2013) suggest that the distribution of building sites in new industrial areas could be randomized, which would lead to better results in subsequent impact analyses of cluster policies. While optimally combining external validity and causality, randomized field experiments suffer from a lack of applicability as their adequate design is time-consuming, expensive, and often highly impractical; consequently, other methods are regularly preferred (Angrist and Pischke 2010).
(5) Laboratory experiments can be considered an alternative to overly costly and impractical field experimentation, combining a high level of causality with a high level of applicability. Despite the lower level of external validity, laboratory studies can be a valuable substitute for randomized field experiments and provide insightful new angles to research topics inaccessible through "traditional" empirical methods.
Since each method has its own strengths and weaknesses, the method used for a particular research question should be chosen depending on the object of research, the availability of data, and the possibility for conducting field experimentation. Overall, a mix of complementary empirical methods might thus be the most promising approach (Weimann, 2015). In the following, we focus on laboratory experiments, which are the most recent addition to the methodological toolbox of innovation research, including discussing their limitations and advantages.
Limitations and advantages of experimental methods
Although lab experiments can be transferred and used to derive relevant policy implications, there are systematic limitations to this approach. Critics of lab experiments such as Levitt and List (2007, 2008) emphasize the restrictions, while Falk and Heckman (2009) provide refutations.
Observation
Participants are observed and act in an artificial environment, which might influence their behavior due to expectancy effects and the experimenter demand bias. Barmettler et al. (2012) contradict this argument and show experimentally that complete anonymity between the experimenter and participants does not change the latter's behavior. Furthermore, it is argued that close social observation is not limited to the lab but rather is a feature common to all economic interactions.
Stakes
It can be argued that the stakes in experiments are too low to induce realistic behavior in participants. Experiments with varying stake sizes yield mixed results depending on the experimental situation (Camerer and Hogarth 1999). However, Falk and Heckman (2009) ask how often people take choices involving sums equal to their monthly incomes and how representative such high-stake experiments would actually be. Consequently, they suggest that the average level of stakes in laboratory experiments correspond to the most common choices that individuals take.
Sample size
The sample sizes of lab experiments are criticized as being too small, although this is refuted such that sample sizes are stated to adequately correspond to this method and thus yield valid assertions.
Participants
Student participant pools are considered unrepresentative of the overall population. While this might not be a problem when testing theories, in the case of innovation experiments, other populations such as researchers or entrepreneurs might be more appropriate experimental participants, depending on the research question.
Self-selection
There is a self-selection bias since students with particular traits sign up for participant pools. Nevertheless, student pools ensure that the selection can be controlled and provide information on participants' demographics, personal backgrounds, and preferences. Thus, the disadvantages connected to selection biases—which are potentially prevalent in field experiments as well as other empirical research methods—can be somewhat controlled.
Learning
Participants often cannot learn in experiments and adjust their behavior accordingly, yet this is also a prevalent factor in many economic interactions outside of the lab, as real-world interactions can often be considered as one-shot games with no chance of learning in repeated decisions. Furthermore, a large number of repeated games have been considered in experimental settings to determine learning effects, for example, Cooper et al. (1999) with regard to incentive systems.
External validity
Lab experiments are considered as lacking external validity, meaning that they produce unrealistic data without further relevance for understanding the "real world": a criticism that holds true both for lab experiments and theoretic models (Weimann, 2015, pp. 240–241). The challenge in designing experiments is to establish the best way of isolating the causal effect of interest and thus providing insights about universally prevalent effects that transfer to other economic situations outside of the lab. In a recent study, Herbst and Mas (2015) show how well-designed experiments can ensure that individual behavior outside the lab is captured adequately, thereby gaining a higher external validity than traditionally assumed for laboratory studies. Further studies comparing laboratory and field evidence will have to show whether this might change the general perception of the external validity of lab experiments (Charness and Fehr 2015). However, in some research contexts, it might not be possible to substantially increase the external validity. In such cases, lab experiments can serve as a starting point to isolate clear effects of specific innovation instruments. Subsequently, these effects have to be investigated with other methods involving a higher external validity, e.g., field experiments in a firm. These methods then have to show whether the initial results from the laboratory hold in contexts outside the lab.
Generalizability
The lack of generalizability of behavioral patterns resulting from lab experiments that refrain from testing a theoretical model is criticized. While the arguments mentioned above reduce this problem, it remains a considerable drawback to some experimental evidence. Nevertheless, every empirical method faces this issue due to the unavoidable dependency of data on a specific context.
Overall, lab experiments entail several distinct advantages as they provide researchers with the means of deriving causal relations from controlled manipulations of specific conditions, while controlling all surrounding factors. This ensures precise measurements and makes it possible to preclude confounding effects such as multiple incentives or repeated interactions. The experimenter thus retains almost complete control of the decision environment, namely the material payoffs, the information given to participants, the order of decisions, the duration, and iterations of the experiment. Participants are assigned randomly, which reduces the selection bias. Moreover, they are incentivized monetarily for their decisions, whereby it can be assumed that decisions are taken seriously: "In this sense, behavior in the laboratory is reliable and real: Participants in the lab are human beings who perceive their behavior as relevant, experience real emotions, and take decisions with real economic consequences" (Falk and Heckman 2009, p. 536). The results are replicable and they allow investigating specific institutions at a relatively low cost. This can be particularly useful when considering exogenous changes like policy interventions and new regulations, where counterfactual situations can be created and their effects tested far more easily in lab rather than field experiments. With the possibility of altering only one factor—e.g., the patent regime—lab experiments allow analyzing the relevance of a particular factor without other factors confounding the observed behavior. Furthermore, lab experiments enable the researcher to examine different innovation types and effects of incentives and splitting up the innovation process to observe individual behavior at particular points of the process (Falk and Heckman 2009; Smith 1994, 2003).
In the following, we review examples of different fields of innovation research where lab experiments have been put forth to provide novel insights.
Review
By analyzing the effects of specific policy instruments via economic experiments, several of the advantages of lab experiments described above can be used fruitfully. In particular, it becomes possible to compare counterfactual data of decision situations with and without a particular instrument. Therefore, it is possible to analyze subjects' specific reactions to changes in the framework conditions, which is almost impossible when using "real-world" data. There are additional merits to the controlled lab environment, in which only one factor is changed; for instance, innovation behavior and its development can be observed and analyzed over several periods. Of course, the innovation process is necessarily stylized in lab experiments; nevertheless, a number of promising ideas concerning how to transfer the innovation process into the laboratory have been provided in recent years. Table
1
comprises the experiments reviewed in the following chapters and summarizes in brief the particular task subjects had to solve.
Table 1
Overview on reviewed experiments
Field of research

Short title

Type of task

Subjects' task in the experiment

Intellectual property rights

Buchanan and Wilson 2014

Real effort search task

Producing and trading rivalrous and non-rivalrous goods composed of colors

Meloso et al. 2009

Real effort search task

Solving the knapsack problem and trading the potential components

Buccafusco and Sprigman 2010

Creative task

Creating and trading poems

Crosetto 2010

Creative task

Creating and extending words and deciding whether to use IP protection

Brüggemann et al. 2015

Creative task

Creating and extending words, setting license fees

Financial instruments

Brüggemann and Meub 2015

Creative task

Creating and extending words, setting license fees

Brüggemann 2015

Creative task

Creating and extending words, setting license fees

Payment schemes

Eckartz et al. 2012

Real effort search task

Combining as many words as possible from 12 given letters

Ederer and Manso 2012

Real effort search task

Managing a virtual lemonade stand

Erat and Gneezy 2015

Creative task

Solving rebus puzzles

Bradler 2015

Creative task

Imagining unusual uses for items

R&D competition

Isaac and Reynolds 1988

Investment task

Taking investment choices under competition

Isaac and Reynolds 1992

Investment task

Taking investment choices including the game bingo

Sbriglia and Hey 1994

Search task

Finding a letter combination by buying different letter trails under competition

Zizzo 2002

Investment task

Competing for a prize over several periods

Silipo 2005

Investment task

Accumulating "knowledge units" under risk and competition

Cantner et al. 2009

Search task

Searching for product specifications of a car including investment and competition

Aghion et al. 2014

Investment task

Competing for finding an innovation including investment and risk
Conclusions
In this paper, we present the limitations and advantages of using laboratory experiments for innovation research and review 18 examples from four specific fields in which lab experiments already have been conducted. As the experimental method yields promising results in testing intellectual property rights, financial instruments, payment schemes, and R&D competition, we suggest that laboratory experiments can serve as a useful additional tool to innovation economists and represent a source of promising new insights for innovation research.
In particular, we argue that lab experiments should be used to target specific policy questions and thus provide measures for the effectiveness of specific instruments prior to their introduction. This approach has—in marked contrast to all other methods—the advantages of yielding evidence from counterfactual situations and a strong control of the setting, for example, when testing external incentives for innovative activity or changing parameters of the institutional framework. Therefore, we follow Chetty (2015) and Weimann (2015), who suggest a pragmatic perspective on behavioral economics, thus adding experimental evidence to the existing methods whenever its particular advantages outweigh its limitations. Within this pragmatic perspective on laboratory experiments, there are three ways in which this field of research can contribute to public policy: by presenting new policy instruments, developing better predictions regarding the effects of existing policies, and more accurately measuring welfare implications. Besides the policy implications, this strand of literature can be used to derive managerial implications. Particularly, studies on external incentives for fostering innovative activities are of relevance, since they give managers practical advice on how to best foster innovative activities of their employees, by using, e.g., experiments analyzing the optimal payment schemes for innovative activities.
We hope that this overview encourages other researchers to use lab experiments in innovation research, which could be further developed in several domains of innovation research: as the existing laboratory studies on financial instruments measure effectiveness, future studies might focus on measuring efficiency, which would reflect promising progress in evaluating new means of public policy. Furthermore, lab experiments might be helpful as a methodological starting point for developing new policy instruments. From a managerial perspective, future experimental innovation research might address the more comprehensive understanding of the innovation process itself. For example, experimental researchers might analyze innovative work in teams and thus decompose the innovation process into its components, which is effectively possible in a laboratory environment. Moreover, the role of external incentives to encourage employees' innovativeness might be further emphasized.
Declarations
Acknowledgements
Financial support from the German Federal Ministry of Education and Research via the Hans-Böckler-Stiftung is gratefully acknowledged. Further, we would like to thank Till Proeger for his very helpful comments.
Open AccessThis article is distributed under the terms of the Creative Commons Attribution 4.0 International License (http://creativecommons.org/licenses/by/4.0/), which permits unrestricted use, distribution, and reproduction in any medium, provided you give appropriate credit to the original author(s) and the source, provide a link to the Creative Commons license, and indicate if changes were made.
Authors' Affiliations
(1)
Faculty of Economic Sciences, Chair of Economic Policy and SME Research, University of Göttingen, Göttingen, Germany