Research and development from the bottom up - introduction of terminologies for new product development in emerging markets
Journal of Innovation and Entrepreneurship
A Systems View Across Time and Space
2014
3:9
Received: 13 September 2013
Accepted: 31 March 2014
Published: 3 July 2014
Abstract
This paper gives a comprehensive overview of the commonly used terms jugaad, frugal innovation, frugal engineering, constraint-based innovation, Gandhian innovation, catalytic innovation, grassroots innovation, indigenous innovation, and reverse innovation. Based on that, a conceptual framework is introduced consisting of three core dimensions: sophistication, sustainability, and emerging market orientation. On the basis of these dimensions, analogies and distinctions between the terms are identified and general tendencies are explored such as the increasing importance of sustainability in social and ecological context or the growing interest of developed market firms in approaches from emerging markets. Hence, the presented framework supports further research in new paradigms for research and development (R&D) in developed market firms (DMFs), particularly in relation to emerging markets. This framework enables scholars to compare concepts from developed and emerging markets, to address studies specifically by using consistent terms, and to advance research into the concepts according their characterization.
Keywords
Frugal innovationReverse innovationEmerging economiesDMFsR&D
Background
In the current phase of globalization, emerging market firms (EMFs) have begun to catch up with those from developed economies in terms of developing innovative capabilities (Jiatao and Rajiv 2009). Western companies entered emerging markets thinking they could simply harvest the fruits of research and development (R&D) and innovation skills painstakingly developed in their home countries (Brown and Hagel 2005). However, while there are several examples of successful technology transfers from Europe to Asia, there have been several unsuccessful attempts as well (Brem and Moitra 2011). Western companies are now encountering a reverse effect of their investments in developing countries because of the exponential growth of those markets. Over the last decade, these countriesa generated an average growth rate of about 4.5%, despite the global financial crisis. Whereas countries with a developed economyb achieved a growth rate lower than 2% (International Monetary Fund 2012). A survey of 547 executives worldwide carried out by Ernst & Young shows that the number of middle-income customers is expected to increase by three billion by 2030, denoting a rise in demand of goods from US$21 trillion to US$56 trillion - with focus on emerging countries (Ernst & Young 2011).
In this context, it is not surprising that, when surveyed, developed market firms (DMFs) said their preferred prospective international R&D locations are China (62%), the USA (41%), and India (29%) (UNCTAD 2005). However, developing products in and for resource-constraint markets is far different from product development in Western countries. It means for Western companies to unlearn traditional R&D approaches including the reduction of many complex and resource intensive steps (Ray and Ray 2010; London and Hart 2004). The ability of integration technologies and knowledge developed in local institutions may be the enabler to serve customer needs in mass markets (Almeida and Phene 2004). Some multinational companies succeed already by even bringing innovations from developing countries in the West. General Electric, as a well-known example, has launched a cheap ultrasound device originally developed for the Chinese market. It has become the basis of a global business with eager customers in both developed and developing countries. This trend is apparent in consumer goods as well. Other examples from the healthcare or telecommunication sector are also based on frugal principles. For instance, Ray and Ray (2010) present a case study about C-Dot (indigenous enterprise of the governmental Department of Telecommunications in India) which is the enabler of telecommunications in rural regions by developing a simple and affordable switching technology called RAX (R&D costs about $36 million instead of $1,400 million). Hereby, C-Dot focused on frugality, local requirements, integrated local talents, and local partners to establish an ecosystem.
Hence, innovation, an often investigated research topic among organizational theory researchers (Brem 2011), is increasingly shifting to emerging markets (Petrick 2011). The tendency of the growing importance of emerging markets and the awareness concerning innovation for economic success are reflected in the dramatic increase of articles in the press about innovation in combination with emerging markets (e.g., Reena 2009; Saraf 2009; Govindarajan and Trimble 2005; Christensen et al. 2004).
Considering science, however, academic papers are rare which investigate innovations in/from emerging markets. Though, the new approaches from emerging markets are able to contribute remarkably to theory, i.e., to the resource-based view (RBV). Amit and Schoemaker (1993), for instance, divide the RBV into resources and necessary capabilities where resources are the 'stock of available factors' and capabilities are the 'capacity to deploy resources […] using organizational processes, to effect a desired end' (p. 35). Companies within emerging markets face strong constraints of resources and develop capabilities to create valuable product solutions by replacing elements of capital with local labor at low costs (Ray and Ray 2010; Dawar and Chattopadhyay 2002). Such capabilities are worthy for further investigation since increasing scarcity of resources came into focus in developed markets, too. The innovative concepts from emerging markets need to be considered and understood.
However, by reading articles regarding innovative approaches from emerging markets, it is conspicuous that there is no common understanding of used terms and the relations between the approaches. The different terms are partly confusing, and no delineation between the terms is made. That hinders the desired academic discussion gaining deeper insights from different perspectives. Therefore, a common understanding of these terms is a prerequisite for further research and a foundation for exchanging ideas and building knowledge (Suddaby 2010). Hence, the following research question is asked: What are applicable characteristics to delineate the terms from emerging markets?
This study provides a brief overview of the terms and descriptions currently used in press and academic literature plus a clear delineation of the terms. Hereby, the specific attributes of the terms are identified and consolidated. Subsequently, the consolidated attributes serve as measurement where the terms can be aligned to. In this vein, the linkages and relationships between the terms and their underlying concepts are uncovered. In the last step, a conceptual framework is introduced to classify the terms in several dimensions.
Literature review of relevant NPD terms from emerging markets
To identify concepts for gaining innovative solutions for and in emerging markets, an investigation is carried out by scanning the databases Google Scholar and Business Source Complete (BSC). BSC includes 20 databases such as EBSCO Host, Econ Lit, and LISTA covering articles from more than 1,200 journals, going back to 1886 (Business Source Complete 2013). In the first step, we start to screen the databases for the most famous terms 'frugal innovation' and 'reverse innovation' in BSC and Google Scholar. All the results were adjusted by eliminating doublings and book overviews.
Thereby, only 43 results are listed in the search of frugal innovation and 98 in reverse innovation. By dint of these 141 (43 + 98) articles, we identified related concepts mentioned within these papers. Hereby, terms are only further considered if they possess a clear relationship to the emerging market context and frugal or reverse innovation, as well as emerge at least in three of investigated papers. All identified terms are presented in Figure
1
.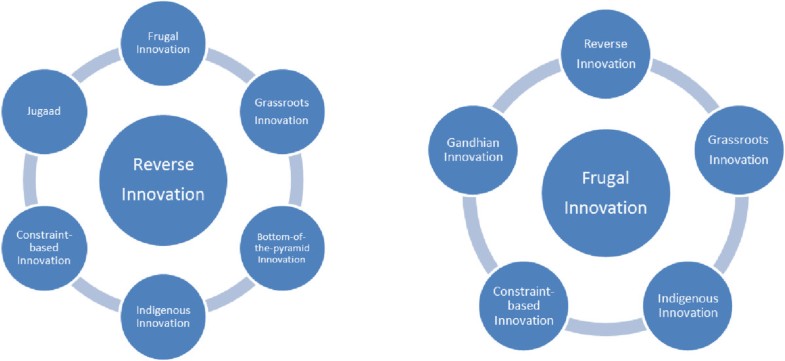 As a next step, the databases were screened regarding all identified terms from the last step. Hereby, 363 papers were explored including 119 academic articles (see Table
1
). First, the academic articles were used to comprehensively describe the terms. However, it was notable that a lot of academic articles only mention the terms without explaining them in depth but referring to press articles respectively practice-oriented publications (i.e. Harvard Business Review). Accordingly, the literature focus was extended to all identified papers in BSC and Google Scholar to get a comprehensive and detailed overview of all identified terms.
Table 1
Literature overview
| Hits in BSC and Google Scholar | Hits | Adjusted | Number of academic articles |
| --- | --- | --- | --- |
| Jugaad | 77 | 68 | 20 |
| Frugal innovation | 50 | 43 | 12 |
| Frugal engineering | 66 | 59 | 14 |
| Constraint-based innovation | 2 | 2 | 2 |
| Gandhian innovation | 5 | 2 | 0 |
| Grassroots innovation | 70 | 57 | 30 |
| Indigenous innovation + emerging marketsa | 50 | 30 | 13 |
| Catalytic innovation | 7 | 4 | 3 |
| Reverse innovation | 147 | 98 | 25 |
| Total | 474 | 363 | 119 |
In the context of innovation from emerging markets, the abovementioned terms are presented in detail.
Alignment of terms
The following approach involves the development of a conceptual framework that explains the relationships between the terms. This analysis and development is based on the traditional scientific method of inquiry (Hempel 1965; Kuhn 1962) including three stages - theory conception and articulation, empirical testing and refinement, and theory affirmation and extension. In this paper, the focus is on theory conception and articulation to develop a conceptual framework.
Methods
The approach of MacInnis (2011, p. 137 ff.) is used to build the theory's conception and articulation. This approach includes four steps: (1) identification - exploring characters, (2) delineation - describing characters, (3) differentiation - discovering analogies and distinctions between the terms, and (4) advocating - implications for theory and practice.
In order to identify and explore essential attributes of each concept, all abovementioned academic articles (119) as well as a selection of 43 articles in press are investigated which contained detailed information of the terms supporting our delineation process of attributes. In this delineation process, Holsapple and Moskowitz (1980, p. 84) propose the 'identification of generalizations.' It involves the derivation of general categories that can be identified within specific explanations where attributes can be clearly aligned to. Subsequently, comprehensive understanding of the terms is supported by their differentiation. The differentiation is realized by establishing scales within the established categories in order to identify analogies and distinctions by classifying single terms.
Finally, results are summarized and practical implications are presented.
Limitations and further research
This paper predominantly uses the databases in Business Source Complete for conducting analyses. Although this is a huge source of 20 databases, further sources could suggest additional views and further implications for theory and practice. Thus, further concepts (e.g., extreme affordability) that have drawn little interest from researchers in the past, but might be interesting for future research, can be found in the literature.
Furthermore, additional qualitative and quantitative research on this topic is required. The present study focuses on emerging markets from a developed market view, that is, its analysis provides a broader view on these concepts. Qualitative research such as the assessment of the cultural and behavioral aspects of actors within emerging markets and its impact on R&D is necessary. Future research could also integrate the approaches based on the underlying phenomenon but applied differently in other countries. Finally, it is recommended to conduct quantitative studies, such as the comparison of DMFs and EMFs in terms of their R&D performance in international markets, as well as long-term studies, including longitudinal interviews and surveys. As the focus was on big companies, a focused research on small- and medium-sized enterprises may offer interesting insights about the usage of these terms as well.
Endnotes
aThe MSCI Emerging Markets Index contains currently 21 countries: Brazil, Chile, China, Colombia, Czech Republic, Egypt, Hungary, India, Indonesia, Korea, Malaysia, Mexico, Morocco, Peru, Philippines, Poland, Russia, South Africa, Taiwan, Thailand, and Turkey (MSCI 2012).
bThe MSCI Developed Markets Index currently contains 24 countries: Australia, Austria, Belgium, Canada, Denmark, Finland, France, Germany, Greece, Hong Kong, Ireland, Israel, Italy, Japan, Netherlands, New Zealand, Norway, Portugal, Singapore, Spain, Sweden, Switzerland, the United Kingdom, and the United States (MSCI 2012).
cFurther innovation drivers in emerging markets include an increase in DMFs establishing R&D centers, increase in the number of (social) entrepreneurs, and a legacy of legal and regulatory environment as well as policy failures, regulatory compliance, and sustainability (Varadarajan 2011).
Declarations
Acknowledgements
We acknowledge support by Deutsche Forschungsgemeinschaft and Friedrich-Alexander-Universität Erlangen-Nürnberg (FAU) within the funding program 'Open Access Publishing' (http://www.ub.uni-erlangen.de/open-access/). We would like to thank the two anonymous reviewers for their valuable comments which helped to considerably improve the quality of the manuscript. Moreover, we thank Dirk Holtbrügge for his helpful comments on an earlier version of this paper.
Authors' Affiliations
(1)
School of Business and Economics, Friedrich-Alexander-Universität Erlangen-Nürnberg, Nuremberg, Germany
Copyright
© Brem and Wolfram; licensee Springer. 2014
This article is published under license to BioMed Central Ltd. This is an Open Access article distributed under the terms of the Creative Commons Attribution License (http://creativecommons.org/licenses/by/2.0), which permits unrestricted use, distribution, and reproduction in any medium, provided the original work is properly credited.